2016-2017 School Year Information: Calendars, Supply Lists, Office Hours
The first day for students is September 6, 2016.
School Supply Lists 2016-2017 School Year
**ECS supplies are provided collectively through the school through a $20 fee assigned to parents.  Students will still require running shoes, a backpack, lunch kit, and headphones.**  
Lakedell School ECS Calendar for 2016-2017
2016-2017 School Year Calendar
The school office will be open August 31st, Sept. 1, and Sept. 2.  
Smudging Information for 2016-2017 School Year
We recently sent home the following information regarding Smudging at Lakedell School.
Bus Drop-Off Changes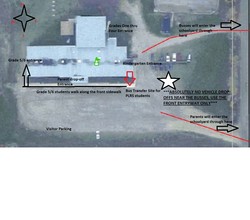 School Entry Changes For 2016 2017
Please see the attached information that went home regarding school bus and dismissal changes for our students.
Exciting Changes Coming to Our Front Entryway this Summer!
As advertised during our Student Led Conferences in March, we are excited to announce that Lakedell School is receiving a renovation over this coming summer break! 
Our front entryway will look significantly different when the 2016-2017 school year commences; with new Administrative Offices for Mrs. Peters and Mr. Van Someren, a new office added for Mrs. Hill, a ventilated smudging room, new front entry doors to the school, new gym doors and hallway doors, a welcoming area by the gymnasium, as well as new flooring, lighting and drop ceilings.
To help prepare our school for the addition of the wisdom tradition of smudging, Grade 4-6 student volunteers from our Smudging Leadership Group are learning about the significance and importance of smudging to the Maskwacis Cree Community and will be sharing with the other classrooms towards the end of this school year and again in the fall. 
As cited in the WRPS Admin Procedure 164 – Smudging in Schools:
"The focus of school is to be a place of learning. The inclusion of relevant cultural, spiritual and traditional knowledge and practices in schools can positively impact student success. Smudging is a relevant Aboriginal practice." 
"4. Smudging is used to begin ceremonies, meetings or other gatherings, though it can also be performed on its own. Smudging is used to commence a new day. The smudge is lit and the resulting smoke is regarded as a purifying agent for the mind, body and spirit.
  "9. Smudging is a voluntary informed act." 
"10. Communication about smudging will occur with students, staff and families. They will be informed about why people smudge, what smudging is, when it will occur and where it will take place. This will be an ongoing process." 
"14. The School Principal will ensure teaching about smudging in the school to students, staff and families through classroom instruction, student assemblies and school council meetings."
Families that are interested in learning more about smudging or why Wetaskiwin Regional Public Schools are including smudging rooms into their schools are encouraged to reference our Admin Procedure 164 (http://www.wrps.ab.ca/download/27392) and/or contact the Principal who would be happy to discuss this exciting change to our school.
The project is funded through Infrastructure Maintenance and Renewal (IMR) funds from the Provincial Government, it should be noted that these funds are specifically designated for school upgrading, the IMR funds allocated for this project are not able to be used for staffing, programming materials, resources etc.
 If you have any questions or concerns about our Front Entryway Upgrade please contact the Principal at the school for clarification.
Mr. Van Someren
Division News