2016-2017 School Year Information: Calendars, Supply Lists, Office Hours
The first day for students is September 6, 2016.
School Supply Lists 2016-2017 School Year
**ECS supplies are provided collectively through the school through a $20 fee assigned to parents.  Students will still require running shoes, a backpack, lunch kit, and headphones.**  
Lakedell School ECS Calendar for 2016-2017
2016-2017 School Year Calendar
The school office will be open August 31st, Sept. 1, and Sept. 2.  
Smudging Information for 2016-2017 School Year
We recently sent home the following information regarding Smudging at Lakedell School.
Bus Drop-Off Changes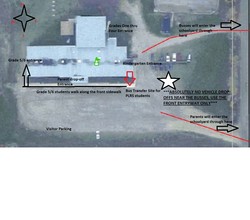 School Entry Changes For 2016 2017
Please see the attached information that went home regarding school bus and dismissal changes for our students.
Lakedell School Community Cares
Over the past few weeks our staff and students have been working together to raise funds in support of the Red Cross and their collection of donations to help Fort McMurray families as a result of the devastating wildfire.  Altogether our ice cream sales, pancake breakfast, and hot dog sale, raised nearly $1000 thanks to the generous donations from our school community.  When matched by the government this will total nearly $2000!  Way to go Lakedell School and thanks to our community for yet another example of how much they care!
The May Golden Garbage Can Award goes to --> KINDERGARTEN!!!!
Lakedell School has a new award that will be presented monthly to our tidiest homeroom: the "Golden Garbage Can Award".  This award is presented by Mr. Johnson each month to the room that stays cleanest and takes the best care to keep the school clean.
The winning room receives a prize and a plaque for their room, as well as the honour of keeping the Golden Garbage Can in their classroom for the month!
We have a first time award winner this month --> 
The May winner was... MISS YAZDANI'S ECS CLASS!!!!!!
The April winner was... Miss Pickering's Grade 1/2 Class
The March winner was... Mrs. Carlson's Grade 5/6 Class
The February winner was... Ms. Wyley's Grade 4/5 Class
The January winner was... Mr. Le's Grade 2/3 Class
The December winner was... Ms. Wyley's Grade 4/5 Class
The November winner was... Miss Pickering's Grade 1/2 Class
Picture Day Postponed to May 17th
UPDATE: We were unable to find a suitable alternate date with Lifetouch and have made arrangements with Koda Photography to take our spring photos, class photos, whole school photo, and ECS graduation photos on May 17th.  They will have proofs back within a few days and photo orders printed prior to the end of the school year.
Exciting Changes Coming to Our Front Entryway this Summer!
As advertised during our Student Led Conferences in March, we are excited to announce that Lakedell School is receiving a renovation over this coming summer break! 
Our front entryway will look significantly different when the 2016-2017 school year commences; with new Administrative Offices for Mrs. Peters and Mr. Van Someren, a new office added for Mrs. Hill, a ventilated smudging room, new front entry doors to the school, new gym doors and hallway doors, a welcoming area by the gymnasium, as well as new flooring, lighting and drop ceilings.
To help prepare our school for the addition of the wisdom tradition of smudging, Grade 4-6 student volunteers from our Smudging Leadership Group are learning about the significance and importance of smudging to the Maskwacis Cree Community and will be sharing with the other classrooms towards the end of this school year and again in the fall. 
As cited in the WRPS Admin Procedure 164 – Smudging in Schools:
"The focus of school is to be a place of learning. The inclusion of relevant cultural, spiritual and traditional knowledge and practices in schools can positively impact student success. Smudging is a relevant Aboriginal practice." 
"4. Smudging is used to begin ceremonies, meetings or other gatherings, though it can also be performed on its own. Smudging is used to commence a new day. The smudge is lit and the resulting smoke is regarded as a purifying agent for the mind, body and spirit.
  "9. Smudging is a voluntary informed act." 
"10. Communication about smudging will occur with students, staff and families. They will be informed about why people smudge, what smudging is, when it will occur and where it will take place. This will be an ongoing process." 
"14. The School Principal will ensure teaching about smudging in the school to students, staff and families through classroom instruction, student assemblies and school council meetings."
Families that are interested in learning more about smudging or why Wetaskiwin Regional Public Schools are including smudging rooms into their schools are encouraged to reference our Admin Procedure 164 (http://www.wrps.ab.ca/download/27392) and/or contact the Principal who would be happy to discuss this exciting change to our school.
The project is funded through Infrastructure Maintenance and Renewal (IMR) funds from the Provincial Government, it should be noted that these funds are specifically designated for school upgrading, the IMR funds allocated for this project are not able to be used for staffing, programming materials, resources etc.
 If you have any questions or concerns about our Front Entryway Upgrade please contact the Principal at the school for clarification.
Mr. Van Someren
Student Led Conferences
March 14th and 15th are our Student Led Conferences, with FREE DINNER included!  Drop in between 4:30 and 7:00 pm to review your child's learning with them.  We will be completed by 7:30 pm each night, so be sure to come early to allow enough time to visit!
Talent Show - March 23 at 1 pm
Parents and families are welcome to view our students in our upcoming Talent Show in the gymnasium at 1 pm.  Singing, dancing, and fun all featuring our terrific Lakedell students as we get ready for our Spring Break, we hope to see you there!!
Kindergarten Registration
Come to our Event! Kindergarten Registration: April 21st, 2016 4:30 PM to 5:30 PM
Lakedell School will be welcoming families to register their child in our ECS program on April 21 from 4 pm to 5:30 pm in our Kindergarten classroom.  
Families will be able to view the classroom and meet the teacher while completing registration packages as well as pick up their "Welcome Bag", filled with great items to help get your child ready for ECS.
Families are also able to register before or after the registration night and can contact the school with any questions.
Family Winter Fun Fest!! March 3rd from 5:30 to 7:30 pm
Lakedell Parent Council is organizing a new fun family evening on March 3 called the Family Winter Fun Fest!  Families will be able to participate in fun winter activities and enjoy hot-dogs, hot chocolate, skating (depending on weather/ice conditions), a fire-pit and a great chance to visit with the community.  This free event should be a great time for all of our families, if you would like to volunteer or have ideas please contact Susann Stone - Parent Council Chair.
K-3 "Get Active Nights" starting January 27th 6:30pm - 7:30 pm
ECS – Grade 3 "Get Active Night"
We are excited to announce a new opportunity for Kindergarten to Grade 3 students… "Get Active Night" is a FREE activity night that will be occurring at Lakedell School starting Wednesday, January 27th from 6:30pm –to 7:30 pm (facilitated by Jessica Strachan, a Lakedell Grade One Parent)
Interested Parent/Guardians can accompany their ECS- Gr. 3 children to the gymnasium where fun activities and games will be played to get our young students active!  Parents can join in on the fun, or watch from the stage.
The "Get Active Nights" will run on January 27th, February 3rd, February 10th, February 17th, and February 24th. 
Please note: parents must stay at the school for the activity; the activities will end promptly by 7:30 pm; and the focus is on FUN!
Reading- Give it a Shot! Oil Kings Game
The Grade 4-6 students were successful in achieving their reading targets and have won tickets to attend an Oil Kings game on January 13th!!  The students are very excited for this game and it should be a great time!  Way to go!
Christmas Concert was a HIT!
Our Christmas concert was a huge success, thank you to the community for coming and supporting our school.  Our Parent Fundraising Committee was able to raise over $2600 to support our school special events.  Thanks to everyone for all of their support!
Christmas Concert - December 15th at 1:00 pm and at 6:30 pm
The annual Christmas Concert is on Tuesday, December 15 at 1 pm as well as at 6:30 pm.  The staff and students have worked hard on their performances and the stage looks great thanks to the many parent volunteers who decorated this year's backdrop!
There are many great raffle baskets as well some terrific silent auction items available to be won this year.  The proceeds go to Lakedell Parent Fundraising Society which raises funds to support our field trips each year.  Last year, Parent Council covered the entire cost of the Ski Trips and Swimming Lessons!!  Our Silent Auction items and Raffle Baskets will be set up in the Library this year along with the coffee and tea; and the Pigeon Lake Preschool Bake-sale will occur in their classroom.
All bidding for Silent Auction items will close at the end of our intermission; with the winning bidders being announced at the close of the concert along with the draw for the raffle basket winners.
Tough Sledding!
The Grade 4/5 class at Lakedell School had the opportunity of a lifetime! They were able to experience dog sledding first hand. The students are currently studying the six regions of Canada in Social Studies. What better way for the students to learn some of the early modes of transportation then by fully embracing it and trying it first-hand?
Nathalie Appleman, a student teacher from Burman University, has been working alongside Ms. Cathy Wyley in her Grade 4/5 class at Lakedell since October. From an early age Nathalie has been involved in her family's love of huskies and dog sledding.
Nathalie, along with her parents, Hans and Jolanda, and Femke Groot, a family friend from Holland, brought their 12 dogs and 2 racing sleds for the students to experience. One by one the students took turns loading the sleds and were pulled around Lakedell's school grounds by six eager huskies. The students were grinning ear to ear with the wind and the rush of the snow in their faces! The students listened closely as Hans described how he made the sleds with his own two hands and how the parts of the sled work. To continue their learning, the students are creating dog sledding adventure stories in Language Arts on the Chrome books.
Thank you to Nathalie and her family for giving the students this amazing opportunity. It is something they will never forget!
The New Bus Status is Here!
The time has come, Lakedell Bus Status users!
A new and improved Bus Status app is now available.
The new Bus Status APP features:
Sleek, modern design enjoyable through the web, iPhone, and Android.
4X faster processing time.
Speedier push notification system, letting you know about delays and cancellations quicker.
Important
Users must "star" buses they wish to receive push notifications for once they have upgraded. Previously favorited buses in the old version will not be saved.
Terry Fox Sponge Throw- Halloween Fun
Students at Lakedell School got into the Halloween spirit and the giving spirit as they dressed up in great costumes and raised over $2000 for the Terry Fox Foundation.
Staff generously donated their faces for the sponge toss and were good sports as students fired hundreds of sponges their way!
New and Exciting Clubs at Lakedell School
The students at Lakedell have asked for more clubs, and we are excited to announce our new "Kindness Club", "Play Leadership Club" as well as upcoming ART, YOGA, LEGO, DANCE and GYM activities.  These clubs are courtesy of our HUB Wellness superstar, Mrs. Ganske! 
Mrs. Hill has started a Cree Language Club and a Beading Club; and we are finalizing details on a monthly boys Drum Group Club. 
In addition, we will be starting up a new AFTER-SCHOOL FLOOR HOCKEY CLUB!!!!  Mr. Le, Mrs. Ganske and Mr. Van Someren will be hosting free floor hockey after school on Mondays starting on November 2.  Permission forms and information will be sent home and if students are able to arrange for someone to pick them up after school, then they will be welcome to play.
 The students and staff at Lakedell are very excited for the new and exciting opportunities in our school!
Parent Council Meeting - November 9 th at 4:15 pm
Parent Council Meetings will be held on the second Monday of the month at 4:15 pm; childcare is provided.
Kick-Off and Meet the Staff Cornroast
With the new school year, comes exciting new opportunities to discover, learn and succeed together.  At Lakedell School, we like to start the year with our annual kick-off; which is an afternoon of fun activities to get to know your classmates and teachers and to celebrate the start of the new year!  Families are welcome to join in this year's kick-off afternoon on September 18 starting at 1 pm.
We also have a "Meet the Staff" Corn-roast scheduled for September 22 from 4 to 6 pm.  We hope to see you as we celebrate another exciting school year at Lakedell School!
Follow us on Facebook and Twitter!!
You can "Like" us on the Lakedell School Facebook Page.
Lakedell School has a twitter account: @LakedellSchool
Division News